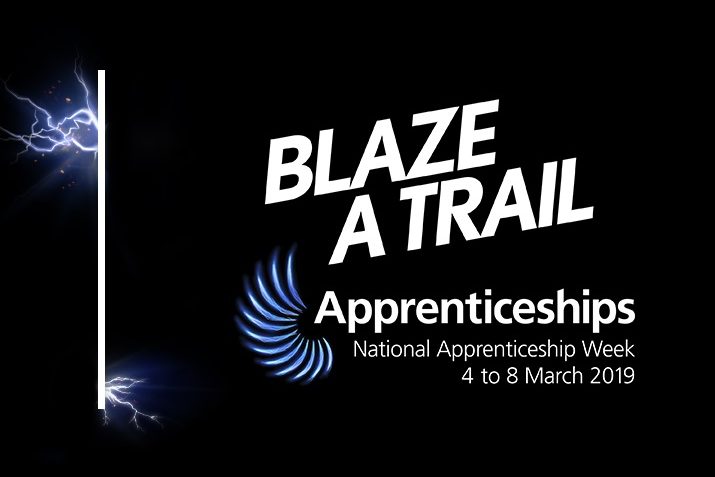 This week is National Apprenticeship Week and we're part of the "Blazing a Trail" campaign celebrating the fantastic opportunities that apprenticeships can offer young people starting out in the world of work. They give them the real-world experience working alongside professionals in their chosen field, recognised training and development opportunities. In short, it gives them everything they need to hit the ground running in the job market.
Activities this week
Here in HMRC we are really proud of our apprentices and have a week of activities to showcase the range of exciting work they are involved in. This includes breakfast with our senior leadership team, promotion videos, blogs and apprenticeship fairs as well as launching our first Apprentice Tech Challenge. You can follow all the action on Twitter @HMRCdigital.
But don't just take my word for it that apprenticeships are a great way to kick-start a career. On Wednesday we'll be running an #askanapprentice session via @HMRCdigital. We'll have our apprentices waiting to answer your questions and to tell you about what it's really like to be an apprentice here in HMRC digital.
We believe apprentices are key to building our future talent pipeline and making HMRC digital a dynamic, innovative and exciting place to work. Their fresh new ideas, different experiences and real passion help build our highly skilled workforce. These skills, in turn, help ensure the best services possible for the country's 50 million customers.
Our apprenticeship programmes
Our Digital Profession Apprenticeships provide exciting digital career opportunities with clear career progression and professional qualifications. Across our three professions: Digital Data and Technology, Programmes and Project Management, and Finance, we have a range of apprenticeship schemes recruiting for many exciting roles, including:
Software Developer Technician (Level 3)
Software Developer (Level 4)
Business Analyst (Level 4)
Data Analyst (Level 4)
DevOps (Level 4)
Software Tester (Level 4)
For colleagues already working for HMRC but not necessarily in Digital we also offer a range of level 3- 7 apprenticeships that suit anyone from junior staff right up to senior leaders, including:
Digital and Technology Solutions (Level 6)
Tech Master - Level 7
Leadership & Management
Human Resources
Digital & Technology
Finance
Business Administration
Don't miss out
All of our recruitment campaigns are advertised on the HMRC Digital Blog, so if you're interested in applying for one of our schemes and want to be one of the first to hear about our new and exciting opportunities sign up for blog email alerts and follow us on Twitter @HMRCdigital.
If you want to know more about what we offer please message the team on Twitter or leave a comment here and we will get back to you.
Looking forward to hearing from you! Have a great National Apprenticeship week everyone.
#BlazeATrail