A group from HMRC's digital delivery centre in Worthing were out and about connecting with secondary school students during the recent National Careers Week. I wanted to write this blog to explain why talking about digital with young people is important for the future, what went well, and what we plan to improve on and do more of next time.
It's HMRC's ambition to become one of the most digitally-advanced tax authorities in the world. An important part of this goal is for us to become 'self-reliant', meaning that we continue to reduce our need for outside suppliers for development and support. We aim to achieve this by skilling up existing employees, as well as, importantly, through encouraging young developers to join us through our digital apprenticeships.
So that's why Jack Witchell (a Fast Stream apprentice), Nia Roberts (one of our product owners), Jennifer McMillian (a technical tester), Alex Newby and Adam Shahzad (both software developers), and I all took turns to attend a National Careers Week event at a local secondary school.
Over the course of four days, we attended the event in order to build up the profile of HMRC's IT graduate and apprenticeship schemes, as well as talk to students about life in a cross-functional development team. Here's what we did and what we feel went well.
Activities
We wanted activities to attract the students to our stand and to lead into questions and discussions. Firstly, we came up with two quiz sheets: one with a technical focus and the other a product focus. The idea was to represent the cross-functional nature of our teams.
We also created a programming challenge, which comprised a pair of errors and required the user to create a new object. The programme was written in Scala, which is one of the main programming languages we use.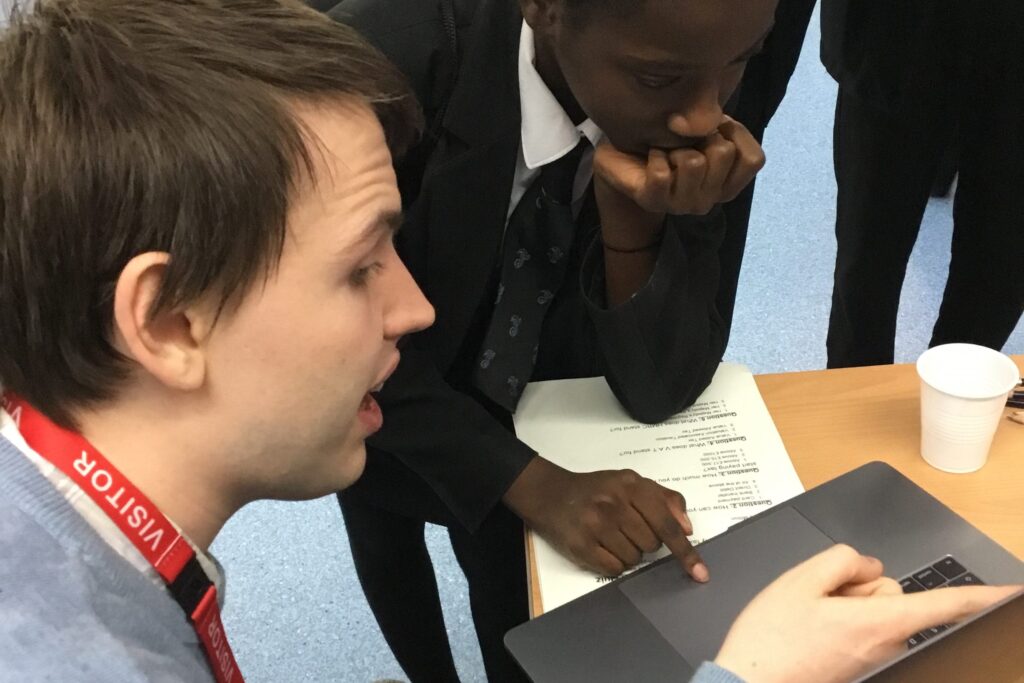 Both activities turned out to be very good at leading the participants into asking questions about our roles and what we did on a day-to-day basis.
Level of challenge
Much to our surprise, our attempt to pitch our activities at the right level of difficulty didn't quite hit the mark, as a lot of the students managed to complete them with only minimal guidance! Clearly, we underestimated the strength of young minds. However, on reflection, we feel the level of challenge probably was appropriate – we didn't want to put anyone off, but we wanted it to be enough to keep students interested and prompt them to ask questions.
Engagement
We got a lot of footfall over the four days we attended. We counted at least 150 students visiting our stand and taking part in our activities, and that figure doesn't include the students that came back to see us again. We were fairly surprised at the enthusiasm and variety of questions we were asked, along with the level of progress some of the braver students made with our programming challenge.
What would we do differently?
Overall, we were very happy with what we managed to achieve over the four days we attended. I think the biggest lesson came on the first day, as we felt a little underprepared and didn't know what to expect. We didn't get many visits to the stand and perhaps didn't engage with the students that strongly.
We had a quick rethink and, in the most agile way possible way, iterated what we'd brought to the table.  Nevertheless, without that initial bump, we wouldn't have had such a successful three days afterwards.
Summing it all up
All in all, we feel we genuinely managed to garner real interest in HMRC as a digital employer over the course of the week. Careers in the technology sector are broad, varied and expanding all the time. I'm very proud of how well my colleagues managed to convey the many different opportunities available, and how well we explained them to people from a 'less technical' background, or to a student who has with no technical career background at all.
We received compliments from both the school and students, and we all felt like we spent our time well. If there is a similar event in the future, I would absolutely recommend getting involved, even if it's only for one day.
Check out our current vacancies. They're updated regularly so worth keeping an eye on.

Now you can follow us on Twitter @HMRCdigital

To make sure you don't miss any of our blog posts, sign up for email alerts