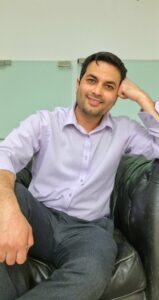 Chintan has been working at HMRC for just over 12 months. He explains how he came to start working at HMRC, about his role in the Pensions Process team, and some of the things he loves about working here.  
My story
I was born in Pokhara, Nepal, which is a lovely city surrounded by 7 lakes and the beautiful Himalayan range, and grew up and studied in Nepal and India.  While studying, I volunteered at an orphanage in Pokhara and also worked as a tourist guide. But it was my relocation to the UK in 2006 which was a massive culture change for me. I continued my studies in 2012 and completed my Master's degree in 2016.  
After graduating, I worked in a variety of industries, including hospitality, retail, property, and financial services. Due to Covid, I lost my previous job and I was looking for a stable position with a long-term career. I always wanted to work for a government organisation, so when I saw a job advert for HMRC, I knew it was the perfect opportunity for me. I was excited to join an organisation that is committed to public service and provides a rewarding career, and I was impressed by the diversity of the workforce and the opportunities for career development. 
I have been working at HMRC for just over a year now, and within that time I have gained a promotion. I work in the Pension Process team within Customer Strategy & Tax Design. My day-to-day role involves providing support to teams with development, guidance, IT design and tools to implement operational process. If you are looking for a rewarding career in public service, I encourage you to apply for a job at HMRC.  
Here are some of the things I love about working at HMRC:  
I work with people from all walks of life, which makes for a stimulating and enriching work environment 
Development opportunities
HMRC is a great place to learn and grow, and there are many opportunities to develop your skills and advance your career 
HMRC is committed to providing a healthy work-life balance, and I can balance my work and personal commitments 
I can work flexible hours, which gives me the flexibility to work around my personal commitments
 Tips for applying
If you are interested in working at HMRC, here are some tips:  
Before you apply for a job, make sure you understand what HMRC does and what kind of work they do.
When you apply for a job, make sure you tailor your application to the specific role you are applying for. 
HMRC is looking for people who are genuine and authentic, so be yourself in your application and interview.
Find out more
I hope this blog post has inspired you to consider a career at HMRC. It is a great place to work and is full of opportunities.  
Visit the HMRC Careers Site to find out more about working for HMRC.