Joseph is on a mission to inspire. At the Multicultural Apprenticeship Awards hosted in Birmingham on 5 October, the judges were unanimous in naming him Apprentice of the Year 2023, beating more than 140 other nominees.  
We caught up with him to find out more about his apprenticeship, why he received the award and what's next for him and his career.  
Becoming an apprentice at HMRC
I started my career at 18 when I discovered Civil Service policy apprenticeships while researching online. I opted for an apprenticeship over university and studied to be a Policy Officer in HMRC. 
My apprenticeship has allowed me to get involved in some very interesting work and has been a gateway into a world where I can make a real difference. 
As a policy adviser, I led the VAT policy input into the Chancellor's zero-rate for energy materials. I have been involved in Brexit work, and in my new role as a Senior Strategy Adviser I work on shaping the future of HMRC through effective strategies. 
In addition, I am the regional lead for the HMRC Stratford Apprenticeship Network where I mentor new apprentices, and champion apprenticeships across HMRC as well as at external events. 
I am also Vice-chair of a local school's governing board. 
Apprentice of the Year Award
I was honoured to be nominated for 'Apprentice of the Year 2023' at this year's Multicultural Apprenticeship Awards. 
The awards celebrate those working to break down barriers, challenge the norm, and overcome adversity to achieve their goals through apprenticeships. 
To attend the event with such an inspirational group of people, and to represent HMRC, was an honour. But to then find out that I had won 'Apprentice of the Year' and 'Accounting and Finance Apprentice of the Year' for the work I have done, was both amazing and totally surreal. I still can't believe it!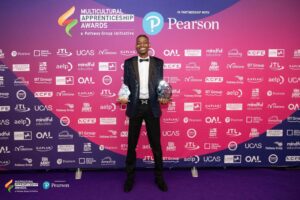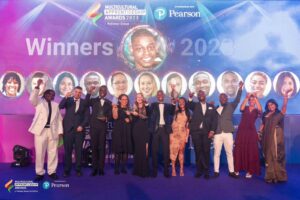 Photo credits: Edwin Ladd – Mr Ladd Media.  
What's next for me?
I want to use this award as a platform and show the value of apprenticeships both for the employer and the apprentice. I am involved in a range of projects to promote apprenticeships, encourage new talent into the Civil Service and use my story to inspire young people to explore alternative routes to a career. 
I am on a mission to see more young people in leadership roles, taking their careers into their own hands and using apprenticeships to unlock their potential.  
A career in your hands
At HMRC, we offer a variety of professions and opportunities for you to develop yourself personally and professionally. 
Visit HMRC Careers to find out what programmes we have on offer to help you progress in your career. 
To discover our current vacancies and to apply, visit Civil Service Jobs.