About me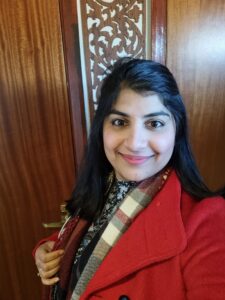 Hi, I'm Prerna - I would like to share my experiences as an international working for HMRC.  
I moved to the UK from India in 2017 with my husband. In India, I worked as an Interior Designer for more than a decade, but I really struggled to find a job in interior design in the UK. I had no other choice but to look for work in hospitality or retail to earn money, as during that time, my husband was studying for his master's degree. 
Applying for a role at HMRC
I worked in a restaurant for almost 2 years until one day a friend informed me that I was eligible to work in the Civil Service because I come from India, a Commonwealth country.  
Without any delay, I started looking for opportunities and found an opening at HMRC. The entire recruitment process took less than a month and I was offered a position as a Customer Service Advisor.  
I have been a Civil Servant for over 3 years and am currently working as a Recruitment Officer at HMRC. It is a job I am proud of and offers an excellent working environment where I can grow and develop my career. I am grateful that my efforts are valued by colleagues at HMRC. 
Come and join our team
The motivation for writing this blog is to bring awareness amongst people like me who come from UK Commonwealth countries and are unaware that they are eligible to work as a civil servant. I have helped many internationals from my community and beyond apply for Civil Service jobs, and I am pleased that some of those people have secured positions at HMRC. 
I want to encourage people to come and join this wonderful, multicultural, and inclusive work culture and build their career. For me, HMRC has shown a deliberate act of welcoming and valuing diversity and equality. I feel accepted and motivated to work more productively and openly. HMRC encourages me to be myself at work and every day I feel so proud to work here.  
If you would like to discover what vacancies we currently have on offer, please visit our website.