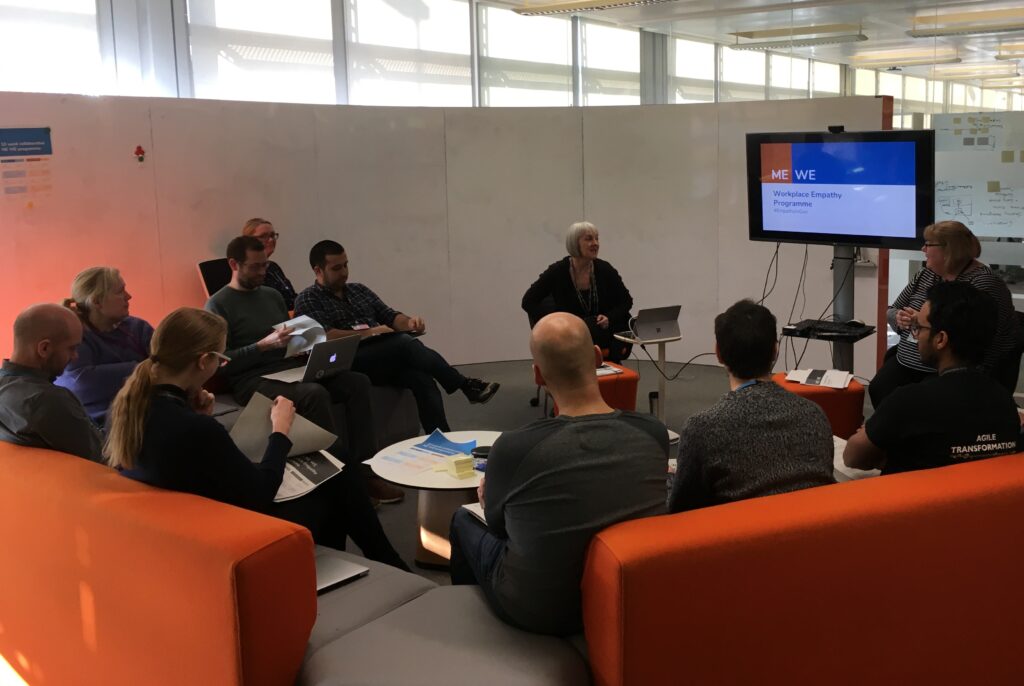 My name is Emma Jefferies, I am a User Researcher at HMRC. Back in August I wrote a blog post about The Empathy Experiments. A lot has happened since then so I wanted to share some of what we've learned.
Putting empathy into the workplace
I've been working with colleagues - in particular Gill Kennedy from our Digital Standards and Assurance team, and Alex Kean our Head of Product Management - to create a workplace empathy programme to promote empathy in our everyday working environments. We've set up initial pilots across HMRC and started to build a community around empathy, both in HMRC and across government.
So what exactly is the workplace empathy programme?
It's all about understanding another person's feelings and needs so we can work together to make better decisions for our customers.
We believe by having more empathy at work we can:
surface problems sooner
connect with the right people at the right time to make the right decisions
increase collaboration from the outset of our projects
develop a shared understanding of the vision for our services
understand the needs of all our users and stakeholders
People have told us that more empathy at work has improved their working environments.  They've become more inclusive, they promote diverse thinking, and create places where it's safe to challenge. They're also better at managing change and have improved well-being.
Empathy starts with 'me'
We recognise that empathy starts with 'me'.  It helps to foster awareness of how 'we' interact together. By valuing the work and value of what everyone does, we create better collaboration that meets the needs of all our citizens.
The programme has a range of empathy learning activities that create a safe space for individuals and teams to think about how they work together and to try out some new everyday actions around:
hearing – how am I listening and how are we hearing each other?
seeing – how are we understanding our bias, and how are we practising reserving judgement?
thinking – how am I seeing beyond someone's level in the organisation and understanding everyone's needs?
feeling – how am I managing my emotions and thinking before reacting?
acting – how are we respecting each other and creating a safe space where we both invite and offer challenge?

Learning from the workplace empathy programme trials
Although it's still early days here's a flavour of what we've learned so far from the programme.
Keep it simple!
There's been a huge amount of interest across HMRC and government in the empathy learning activities. They are simple, and people can easily see how they can be used in their day-to-day work. People have told us they can apply them in performance conversations, leadership, and helping teams as they start off and develop together.
Framing empathy in government
As civil servants we are entrusted to deliver policy and services for citizens.  In promoting empathy, we understand people's needs without becoming overwhelmed by the feelings of others. It's also about being able to say I have a need, and we have a shared need – how do we solve problems for HMRC and citizens?
Communicating empathy in the workplace
We want to explore different ways of communicating what empathy is and are aware there may be some scepticism around it. We are already looking at how to talk about this and how to introduce 'emotion' in the workplace.
As a data-driven organisation our HMRC empathy group suggested thinking about emotions and feelings as 'data' we can learn from - by listening to our emotions we can better understand each other. Learning to understand other people's emotions helps us to understand everyone's needs and motivations, including our own.
Measuring empathy
We want to keep the measurement of the programme straightforward and practical. We've developed a simple tool so people can tell us how they are feeling before and after the empathy learning activities. This will give us an indication of what impact the programme has on people and if we are increasing empathy in the workplace. We are looking at wider measurement so we can measure success from the start.
Starting an empathy network and HMRC community
It's been amazing to find that we are not alone in wanting to introduce empathy into the workplace and have found lots of like-minded colleagues across government, including the OneTeamGov community.
We've also spoken to many different people interested in developing empathy and other initiative programmes across HMRC. A strong message has been that we're all keen to normalise empathy as part of our daily working lives. This led to us holding our first Empathy in HMRC group meeting.
Going forward
We want to use this sense of community to support each other going forward. It will help shape how we deliver and support the programme. We hope to share more at a later date, as we learn together and slowly build an #EmpathyinGov network.
If you'd like to get in touch about our workplace empathy programme just post a comment and we'll get back to you.
Dr Emma Jefferies, User Researcher and Empathy Experiments Lead
Make sure you don't miss any of our blog posts, sign up for email alerts.
Follow us on Twitter @HMRCdigital.
Take a look at our current vacancies.